Washington fishing charters - Washington salmon charters - Washington halibut charters - Washington albacore tuna
Your source for salmon, halibut, tuna and bottom fishing on the NW Washington coast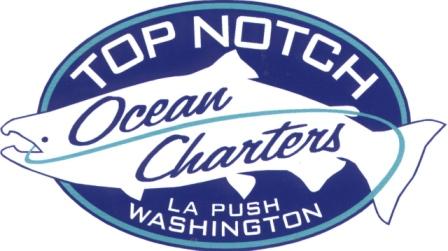 Top Notch Ocean Charters
off the Washington state coast departing daily from La Push marina
Call Toll Free 1-888-501-5887 or email jricheson@centurytel.net
Now Booking Ocean Fishing Charters March 13 - October 14 2023








To subscribe to our newsletter which helps to keep track of upcoming fishing opportunities
please send a email with "newsletter" in subject space, thanks. Also look for more frequent
reports, pics, promotions and specials on our Facebook page. Link at bottom of page
| | |
| --- | --- |
| | Hi my name is Jim Richeson inviting you to visit Washington's best location for saltwater fishing. La Push has the same and many times better fishing as other coastal Washington ports such as Neah Bay, Westport and Ilwaco. What we don't have is huge crowds of charters and private boats. Although our vessel is large enough to easily fish eight people we keep the number to six to ensure a enjoyable trip. A second boat can be arranged for larger parties. River trips are available late September through the end of April. |
Now booking lingcod and rockfish trips starting March 13 2023

Book early for best available 2023 dates.

Boat was custom designed using a 31 foot uniflite mold by Ed Beck of Beck Boats. Key features of the boat will be a walk around house for added fishing space, enclosed bathroom, seating for six inside cabin, Scotty downriggers and new top of the line electronics and safety equipment,
including a eight man life raft, EPIRB and a satellite phone. Boat cruises at 20 knots
which means more fishing time and less traveling. For a closer look click on either photo.




Here is part of a feature article printed in the NW Outdoor section
of the Seattle PI about fishing out of La Push. Click Here to see the complete story.
The scenery is incomparable misty, rocky, primal and rich with wildlife and although people are rediscovering it, it's still lightly fished.
"It's the jewel of the state", says Scott Barber a department of Fish and Game biologist. The salmon fishing has been as good as anywhere on the coast for both Chinook and Coho. Also fishing for halibut, rockfish and lingcod off La Push is as good as anywhere in Washington.
Here is a look at our seasons.

Washington Coast Halibut
Prime Halibut grounds can be reached within 1 1/2 hours from
La Push marina. The fish range from 15 to over 100 pounds, and can be a handful to pull off the bottom. Halibut are considered by many to be the best eating white
fleshed fish in the world and draw a high price in stores and restaurants. If everybody's limits
out early we typically limit on lingcod on the way in. Limit is one halibut two lingcod per angler.
Salmon fishing
We expect a mid June opener 2023
The fishing out of La Push for both king and
silvers has been red hot the last few years. The waters off of La Push and nearby
"Umatilla Reef" are the summer feeding grounds for thousands of salmon from rivers California to Alaska. If the boat limits on salmon early enough there is a option to spend
a hour or so bottom fishing on the way in, check combo pricing below. Limit is two salmon.



Lingcod and Sea Bass
(March 13 - October 15 2023 check special pricing on the trip below )
We are offering Rockfish trips mostly in April, May and October when salmon is not open. A popular trip is a salmon/bottomfish combo.
Book now for awesome early season bottom fishing starting March 13 2023
April is lingcod month in La Push, book early.

The lingcod opener marks the beginning of our ocean season.
These fish are very plentiful along are coastline and are a blast to fight on light Tackle.
The season for lingcod and Sea Bass is open throughout are saltwater fishing season.
Limit is two lingcod and ten rockfish per angler.
Offshore Lingcod fishing
If you have not fished the La Push offshore ling hole yet this is your chance, the best lingcod holes in the deeper waters reopen March 13 2023, call now to book.
Although it is usually easy to limit on lingcod close to the beach with a few big ones mixed
in, the best chances of catching a complete boat limit of BIG lings is to run to the outer
waters. It is just over a 25 mile run to the fishing grounds but well worth it as the fish average
twenty pounds with a few over forty.

Live Bait Albacore tuna
Open all year, no limit WA saltwater license required (Best fishing mid august - mid October)
Due to the very slow tuna fishing the last couple years we are not pre booking any tuna trips in 2018. Fishing very well could get good again this season and if it does I will be doing some trips. If you would like to be on our
if tuna gets good I may be interested list email us your contact info.
Sight Seeing / Whale Watching
We offer sight seeing trips during our entire season. Some flexible hours are available
during April, May and June. But when Salmon season opens in late June all trips will be 4pm to 6pm. Guests on these trips often will spot seals, sea lions, harbor porpoises, sea
otters, whales and a array of sea birds. A camera is a must on these trips.
Online booking is not available on these trips please call or email
Call Toll Free 1-888-501-5887 Local 360-374-2660 or email jricheson@centurytel.net
Rates for the upcoming 2023 saltwater season
Special pricing - Fill the boat with 6 people all weekdays in March or April on a
Lingcod/rockfish combo $175 each a $40 per person savings.
Special pricing - Salmon bottomfishing combo trips between the dates of June 17
and July 1st will be priced at $215 a person a $60 a person savings from normal rates.


Visa and MasterCard accepted
Credit Cards will be charged 4% to cover bank transaction charges.

Halibut charters
$400 per angler
Salmon
$215 per angler
Lingcod and Sea Bass
$215 per angler
Offshore Trophy Lingcod
$300
Combo Salmon and Bottom fishing
$275 per angler
Albacore Tuna(live bait Westport WA) 5 passenger loads
$400 per angler
Sightseeing Tours (two hours)
$400 buys boat exclusive price(up to six people)
FISH CLEANING - Salmon, Halibut and Lingcod are filleted and bagged at no charge.
Sea Bass limit is $4.00 and Tuna is $3.00 each. Optional
| | |
| --- | --- |
| Feel free to check out our facebook page. We will be posting fishing reports, pics and special deals on trips throughout the season. Face book is also a great place for me to answer easy questions about our trips and do things such as give a lodging recommendation. Please feel free to post some La Push fishing pics and reports from your trips with us or from your own boat. | |



A 50% deposit will be charged if you cancel less then three weeks before scheduled
trip and we are unable to refill your seats on the boat. If you have to cancel within one
week of the trip and we cannot refill your seats 100% of the trip cost will be charged.


Our captains are holders of the USCG 100 ton masters license, we are holders of a
Washington state salmon charter permit and we are fully insured.
Gift Certificates from Top Notch Ocean Charters
| | |
| --- | --- |
| | Have you been looking for that perfect present for a family member, co-worker or a good client? We have gift certificates, we find that they make great gifts for Christmas, fathers day, mothers day, anniversaries and other special occasions. The receiving party of the gift will have the convenience of a one year period to schedule a fishing trip on the ocean or rivers that best fits his or her schedule and fishing preference. |

For Booking Information
Contact:
Jim Richeson
Top Notch Ocean Charters/Quillayute River Guide Service
Steelhead and Salmon Fishing
Toll Free 1-888-501-5887 Local 360-374-2660
e-mail jricheson@centurytel.net

Jim Richeson
P.O. box 71
LaPush WA 98350
| Home | Steelhead and Salmon Fishing Trips |
| Lodging | Directions | Photos |